Celebrating 30 Years of Dolphins and You!
To celebrate the 30th year of connecting over 200,000 guests with the life-changing experience swimming with Dolphins, our Dolphins and You tickets are just $130 (and only $98 for kids) — but only for a limited time! Use the code "30years" at checkout to take advantage of this opportunity.
Say goodbye to your bucket list!
Over 200,000 people have had the experience of a lifetime
Play the video below to see first-hand what Dolphins and You is all about.
If you haven't spent time swimming with dolphins in their natural habitat, then you're missing out on a truly life-changing experience.
On Oahu's west coast lies a pristine ocean paradise, hardly touched by the modern world. Here, our friendly, local crew will guide you through every step of this remarkable journey …
We infuse the spirit of Aloha and genuine Hawaiian culture into Dolphins and You. Come embark on your Journey of Self Discovery and make memories of a lifetime.
Scroll down to view the full tour schedule!
What can you expect on the tour?
Here is a complete rundown of what you'll experience with Dolphins and You
Good Morning! You will receive a confirmation call from one of our staff to make sure you're all set!
Our WiFi-equipped shuttle will transport you on the one-hour drive to Oahu's West Coast. 
Our local tour guide will provide an important briefing and answer any questions you might have.
If you're feeling a bit sleepy, no worries!  Take a quick nap before we arrive.
Welcome aboard!
Our ship, Ariya, is stable, spacious and even has a bathroom!  She has provided safe passage for thousands of passengers and is a friendly vessel for guests of all ages.
We will begin our boat ride with a prayer for a safe and enjoyable trip.
We will be singing a Hawaiian chant called, "E'ho mai", to pray to the gods of the sea for a safe trip with plentiful dolphins.
Preparing to meet the dolphins
It's time to put on our snorkel gear!
Our complimentary snorkel, mask, fins and life jacket will make your experience in the water fun and safe.  We even have children's sizes!
For those who would like a wet suit, they are available to rent on the bus.
Be sure to carefully listen to the safety briefing before you get in the water.
Filled with Aloha Spirit & love for the sea, all of our crew members are locally grown masters of the sea!
All are also licensed with LifeSaver, CPR, and First-Aid.
Additionally, they can play the ukulele & dance the hula!
Swim with Dolphins in the Wild!
We will cruise the West Side in search of dolphins. As the name implies, Spinner Dolphins are known for their acrobatic-like spinning skills and long-snouts.
Meeting dolphins up close will be an experience you will never forget!
Honu, Guardian of the Sea
After a fun swim with the dolphins, we will continue on to our snorkeling location.
Here, we will meet many tropical fishes and Honu (turtles), the guardian of the sea.
In addition to snorkeling, you can ride the kayaks, stand-up paddle boarding, water slides, and trampolines!
We have a wide variety of water activities for your to enjoy, or just sit back on the boat and relax in the sun!
Enjoy a perfect meal after a fun-filled day in the ocean! Our crew will serve you a special Hawaiian cheeseburger or veggie burger on a purple Hawaiian taro bun.
Sit back and enjoy your meal with a live ukulele performance. Fresh and local pineapple, water, and lemonade will also be provided.
The Dolphin & You original, polynesian-style dolphin tattoo will also be available to try. You won't be able to find this anywhere else!
Sit back, relax, and enjoy the crew's Hula Show. At the end, please join us as we dance together to spread Aloha and give thanks.
A group photo will be taken and will be sent to everyone via email.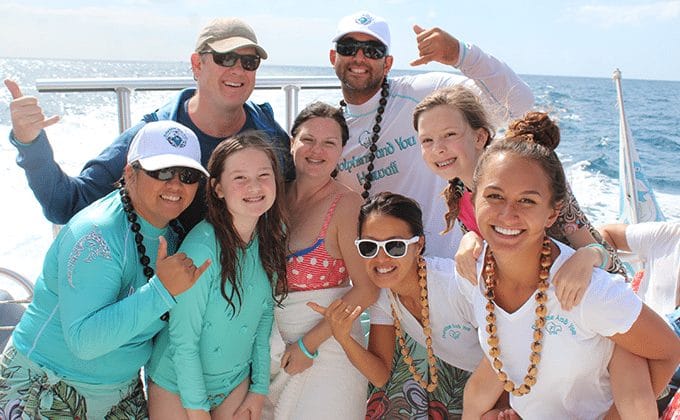 "A Hui Ho"! Until We Meet Again!
Thank you for joining us today on a fun-filled adventure on the ocean! Please don't forget about all the dolphins and sea creatures you've met on this adventure!
And of course, our friendly crew! Check us out on social media sites, too!
$156 / adult
$124 / child (2-11)
2 tours / day departing Waikiki at 5:30 and 9:30 in the morning
Tours operate with a minimum of four participants with a maximum capacity of 40.
*Tours may change/cancel due to unexpected weather or other circumstances.
Our Commitment to the Environment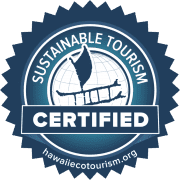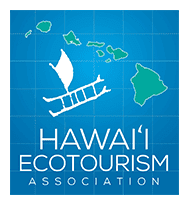 Dolphins & You is committed to protecting Hawaii's unique natural environment and host culture through the promotion of responsible travel and educational programs, relating to sustainable tourism for residents, businesses, and visitors.
Dolphins & You is committed to promoting enviornmental stewardship, cultural sensitivity, community well-being, and quality education within the travel and tourism community. Dolphins & You is certified by the HEA, Hawaii Ecotourism Assoication as a Certified Sustainable Tour.
For more information about the Hawaii Ecotourism Association, please visit hawaiiecotourism.org
Explore our tours and follow us on social media!