See any familiar Oahu locations in the trailer for the new Netflix movie "The Wrong Missy"?
"The Wrong Missy", starring David Spade and Lauren Lapkus, comes to Netflix on May 13, 2020. This comedy is the classic story of texting gone very wrong. After Tim (Spade) meets his dream girl, he sends a text to invite her to a corporate retreat in Hawaii. He later learns that he had accidentally sent the text to someone else, and he winds up accompanied by "the wrong missy".
As chaos and hilarious embarrassments ensue, the odd couple makes their way all around the island of Oahu. One of the spots they visit is the Dolphins and You tour boat, the "Ariya"!
If you've visited Oahu before, you'll have fun spotting some familiar locations! We could already spy a few in the trailer. Here's what we know of so far:
The Wrong Missy Film Locations in Oahu
The Dolphins and You tour boat is used in the movie as a frightening and unusual shark cave dive experience. But that couldn't be further from what Dolphins and You actually does.
Dolphins and You is a tour that takes Oahu visitors swimming with wild dolphins in west Oahu. In the company's 30 years of operation, we've never seen a large shark in the water.
Rob Schneider is a member of the boat crew in the movie, and the character he plays is a little off the hinges. Before he hands David Spade his snorkel gear, he sticks his tongue into the snorkel to see if it's clean.
Although the Dolphins and You crew can get pretty crazy at times, we promise our practices are much more sanitary. On a real Dolphins and You tour, there's a lot more dancing, a lot more culture and a lot more dolphins!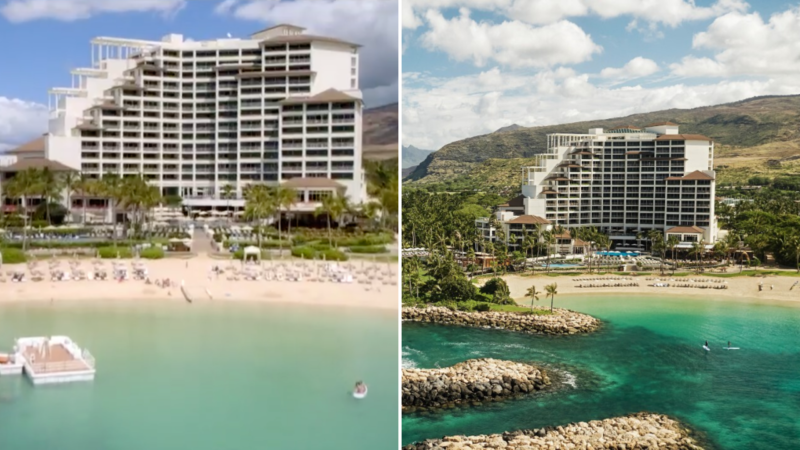 The beautiful Four Seasons Resort in Ko Olina is where Tim and Missy stay throughout the movie. Ko Olina is a resort town in west Oahu with stunning blue ocean bays, hotels and restaurants.
From what we can tell in the trailer, what's represented in the movie seems to be pretty on point with what the Four Seasons Resort offers in real life. The resort really does offer accommodations for events and business meetings, and its pool and rooms are top-notch.
The Four Seasons Resort in Ko Olina is one of the ten hotel pickups offered by Dolphins and You tours.
The location where Missy and Tim have a light meal and drinks together at a picnic bench under twinkle lights in the movie looks really similar to the food truck park in Pupukea.
The food trucks in Oahu's North Shore serve all different types of food, from tacos to fish poke. Across from the park is a beautiful view of a cove called Sharks Cove. But don't worry, there aren't any sharks there. In the summer months, it's a popular snorkeling spot.
We're not sure which food truck Tim and Missy got food from, but we can tell they're drinking Honolulu Beerworks local beer!
Instagram Photos from the Cast and Crew of "The Wrong Missy"
David Spade shared a photo of the cast on the Dolphins and You boat to his personal Instagram:
Adam Sandler and Maya Rudolph were also seen hanging out in Waikiki during the filming of "The Wrong Missy"!
We can't wait until this movie is released! Let us know in the comments if you see some more Oahu locations that we missed.
Want to experience the same tour boat that hosted David Spade and Rob Schneider?
Book Dolphins and you for a swimming with dolphins tour today!
LEARN MORE ABOUT DOLPHINS AND YOU