Now Serving
Adult Beverages
Dolphins and You is now the
only Oahu dolphin swim tour to offer alcoholic beverages!
Drinks will now be available for purchase after swimming activities are completed.
Nonalcoholic beverages also available.
BUNDLE AND SAVE
Bundle any two or more And You Creations tours and receive $20 off per guest on your total price!
Book Now
Book Ahead for 10% OFF
Book your dolphin swim tour at least 30 days in advance with the code "30EARLY" for 10% off at checkout.
Book Ahead
Price
Swim with Dolphins and Sea Turtles
Adults: $156
Kids (2-11): $124

Watch Dolphins and Sea Turtle Snorkel
Adults: $129
Kids (2-11): $97
Days
2 tours daily
7 days a week
Wetsuit Rental
$10 / person
Photo / Video
Photo & Video USB: $79
" I recommend getting the photo package. There is no time to take pictures while swimming with the dolphins. You really have to just live in the moment."
Swim with dolphins in their
natural habitat in Hawaii
Over 250,000 people have had the experience of a lifetime
If you haven't spent time swimming with dolphins in their natural habitat, then you're missing out on a truly life-changing experience.
On Oahu's west coast lies a pristine ocean paradise, hardly touched by the modern world. Here, our friendly, local crew will guide you through every step of this remarkable journey with Oahu spinner dolphins …
Dolphins and You is
111 HAWAII'S BEST
Hawaii Tour
of 2018 and 2019
Dolphins and You is
111 HAWAII'S BEST
Hawaii Tour
of

2019
"My husband and I had a really great time! We saw dolphins, eagle rays and turtles! Crew was really nice too! We really enjoyed our tour as the crew was friendly, professional and dedicated to ensuring our needs were met. We got to see dolphins, an eagle ray and a turtle. They now offer alcoholic drinks for sale during the tour which is an added bonus, lemonade and water was provided at no extra cost. Burgers for lunch were pretty good on taro buns. We even enjoyed going down the inflatable water slide!"
Here is a complete rundown of what you'll experience with Dolphins and You
*Tour schedule is subject to change due to ocean or traffic conditions.
Good Morning! You will receive a confirmation call from one of our friendly staff to make sure you're all set!
"This excursion was by far one of the best excursions we have been on and we have done many!! The whole crew was amazing from start to finish."
Our WiFi-equipped shuttle will transport you on the one-hour drive to Oahu's West Coast. 
Our local tour guide will provide an important briefing and answer any questions you might have.
If you're feeling a bit sleepy, no worries!  Take a quick nap before we arrive.
"This tour is very organized! The transportation bus as well as the boat is well kept. Very clean. They offer transportation from Waikiki and Ko'olina to the destination. Very comfortable ride (AC, recliner seats, USB charging dock, lots of storage)."
Welcome aboard our state-of-the-art new boat!
Docked in the heart of West Oahu, our ship – Ariya – has two decks, surround-sound, an expansive bow and two bathrooms!  
"The boat was very nice, clean, and had all the amenities."
We will begin our boat ride by reciting a Hawaiian chant called, "E'ho mai".  It is a prayer to the gods of the sea for a safe trip with plentiful dolphins.
"By far the best activity I did while visiting Hawaii for the first time! The staff was so kind and attentive, I couldn't have asked for better service."
Prepare to meet the dolphins
It's time to put on our snorkel gear! Our complimentary snorkel, mask, fins and life jacket will make your experience in the water fun and safe.  
For those who would like a wet suit, they are available to rent on the bus.
"For starters, they made sure everyone knew safety was paramount and covered international diving signals to indicate when you were good and when you needed help. This was the first time any tour group has covered that so it was refreshing to know they cared about you."
Filled with the Aloha Spirit, our "locally grown" crew members are all masters of the sea!  Each is CPR, First-Aid and LifeSaver licensed.
Plus, they're amazing ukulele players, singers and hula dancers!
"The crew was energetic, with great personalities, which made the overall experience the best!! The crew also kept our personal safety at the forefront and watched and assisted when needed without any fuss, which was greatly appreciated!"
Swim with Dolphins in the Wild!
We will cruise the West Side in search of dolphins. As the name implies, Spinner Dolphins are known for their acrobatic-like spinning skills and long-snouts.
Meeting dolphins up close will be an experience you will never forget!
"I actually swam right above a wild pod of 25-30 Spinner Dolphins !! Bucket List ... check!"
After a fun swim with the dolphins, we continue on to one of the best coral reefs in Hawaii!
Here you will snorkel with tropical fishes, honu turtles, manta rays, and you might even see whales in the winter!
"It was my first time snorkeling in the ocean and yet, I felt safe with them. I was surprised seeing the dolphins, fish and turtles come so close to us while swimming. The crew educated us on not harming them or the reefs (Reef safe sunscreen available thru them)."
In addition to snorkeling, you can ride our kayak, try some stand-up paddle boarding, enjoy our water slides, and bounce on the inflatable trampoline!
We have a wide variety of water activities for your to enjoy, or just sit back on the boat and relax in the sun!
"The water slide and other water toys were super fun and a great addition! I would highly suggest Dolphins and You."
After a fun-filled day in the ocean, our crew will serve you a delicious cheeseburger (or veggie burger) on a purple Hawaiian taro bun!  Sit back and enjoy your meal with a live ukulele performance. Fresh and local pineapple, water, and lemonade will also be provided, along with adult beverages available for purchase.
"I was so relaxed on the way back! The entertainment was fun too, and the burger very, very tasty! Overall, just an absolutely wonderful trip - if you are wondering if you should go, don't think twice - do it!"
As a new member of our Dolphins and You ohana (family), we celebrate your swim with the dolphins with a special gift! 
Our original polynesian-style temporary dolphin tattoo!  This isn't available anywhere else but with Dolphins and You.  Just our way to say "thanks" and "mahalo"!
"A thoroughly uplifting, entertaining adventure."
Sit back, relax, and enjoy the crew's Hula Show. At the end, please join us as we dance together to spread Aloha and give thanks.
"The crew was outstanding! From their safety announcements to the hulas they each performed, they were top of the line."
"A Hui Ho"! Until We Meet Again!
Thank you for joining us today on a fun-filled adventure on the ocean! Please don't forget about all the dolphins and sea creatures you've met on this adventure!
"One of my best trip experiences on Oahu. Very clean, friendly & caring staff. They helped my kids with all their questions."
Our Commitment to the Environment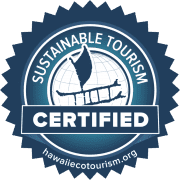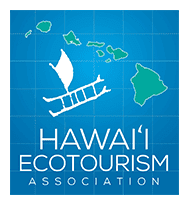 Dolphins & You is committed to protecting Hawaii's unique natural environment and host culture through the promotion of responsible travel and educational programs, relating to sustainable tourism for residents, businesses, and visitors.
Dolphins & You is committed to promoting environmental stewardship, cultural sensitivity, community well-being, and quality education within the travel and tourism community. Dolphins & You is certified by the HEA, Hawaii Ecotourism Association as a Certified Sustainable Tour.
For more information about the Hawaii Ecotourism Association, please visit hawaiiecotourism.org