Book Ahead for 15% OFF
Book your dolphin swim tour at least 60 days out and automatically receive 15% off at checkout.
Book Now
Swim with dolphins in their
natural habitat in Hawaii
Over 200,000 people have had the experience of a lifetime
If you haven't spent time swimming with dolphins in their natural habitat, then you're missing out on a truly life-changing experience.
On Oahu's west coast lies a pristine ocean paradise, hardly touched by the modern world. Here, our friendly, local crew will guide you through every step of this remarkable journey with Oahu spinner dolphins …
"We will remember this for the rest of our lives! Big Chee Hooo to The crew as they were friendly, professional and experienced. Excellent for Teams as transportation, equipment and lunch is included!! A MUST DO!! A MUST SEE!!Thank you!"
Here is a complete rundown of what you'll experience with Dolphins and You
Good Morning! You will receive a confirmation call from one of our friendly staff to make sure you're all set!
"Best tour I had in Hawaii. I was entertained all throughout the trip. I booked for the morning trip and the pickup bus was on time."
Our WiFi-equipped shuttle will transport you on the one-hour drive to Oahu's West Coast. 
Our local tour guide will provide an important briefing and answer any questions you might have.
If you're feeling a bit sleepy, no worries!  Take a quick nap before we arrive.
"Comfortable, top-of-the-line, air-conditioned bus."
Welcome aboard our state-of-the-art new boat!
Docked in the heart of West Oahu, our ship – Ariya – has two decks, surround-sound, an expansive bow and two bathrooms!  
"Their new boat is a 55' vessel and is incredibly clean."
We will begin our boat ride by reciting a Hawaiian chant called, "E'ho mai".  It is a prayer to the gods of the sea for a safe trip with plentiful dolphins.
"When the tour began, we were asked to participate in a beautiful Hawaiian ritual of singing to the ocean, basically a prayer asking for the ocean's protection and giving it an offering of orchid flowers. This was such a joyous way to begin this adventure, I loved it. We danced along with the crew to warm up and again, this was a very fun and energetic part of the tour."
Prepare to meet the dolphins
It's time to put on our snorkel gear! Our complimentary snorkel, mask, fins and life jacket will make your experience in the water fun and safe.  
For those who would like a wet suit, they are available to rent on the bus.
"I definitely recommend the wet suit; it helped us feel warmer and made me feel like a pro!"
Filled with the Aloha Spirit, our "locally grown" crew members are all masters of the sea!  Each is CPR, First-Aid and LifeSaver licensed.
Plus, they're amazing ukulele players, singers and hula dancers!
"We loved our time with Dolphins and You and were very impressed with the professionalism, kindness, and beautiful sights we were able to experience during our trip. I still can't believe how close we were to wild dolphins! On top of that, our time snorkeling and utilizing the slide and water toys was a blast!! I highly recommend Dolphins and You for an unforgettable day!"
Swim with Dolphins in the Wild!
We will cruise the West Side in search of dolphins. As the name implies, Spinner Dolphins are known for their acrobatic-like spinning skills and long-snouts.
Meeting dolphins up close will be an experience you will never forget!
"Omg! Amazing journey into the ocean, dolphins right in front of you. We saw bottlenose and spotted dolphins, then after we saw a ton of sea turtles! Me and my partner had a blast! The whole crew made us feel like family and we will be booking this trip again for sure!"
After a fun swim with the dolphins, we continue on to one of the best coral reefs in Hawaii!
Here you will snorkel with tropical fishes, honu turtles, manta rays, and you might even see whales in the winter!
"It turned out to be way beyond our imagination. We first saw the whales from the boat and then more than 10 dolphins swimming below us and around us in water and finally the turtles in alms length! The staff was all also great and made sure we were all having a good time. The day flew by."
In addition to snorkeling, you can ride our kayak, try some stand-up paddle boarding, enjoy our water slides, and bounce on the inflatable trampoline!
We have a wide variety of water activities for your to enjoy, or just sit back on the boat and relax in the sun!
"It's got to be perhaps the biggest water slide on any of the vessels I have seen in Hawai'i! Definitely a big and loud cheehoo and mahalo to all who made this day happen."
After a fun-filled day in the ocean, our crew will serve you a delicious cheeseburger (or veggie burger) on a purple Hawaiian taro bun!  Sit back and enjoy your meal with a live ukulele performance. Fresh and local pineapple, water, and lemonade will also be provided.
"The burgers were so yummy with their buns that were purple, I was shocked in a good way. Super fun way to spend your day!
"
As a new member of our Dolphins and You ohana (family), we celebrate your swim with the dolphins with a special gift! 
Our original polynesian-style temporary dolphin tattoo!  This isn't available anywhere else but with Dolphins and You.  Just our way to say "thanks" and "mahalo"!
"Loved the temporary tattoos!"
Sit back, relax, and enjoy the crew's Hula Show. At the end, please join us as we dance together to spread Aloha and give thanks.
"The crew sang and danced the hula better than the Luau we went to!"
"A Hui Ho"! Until We Meet Again!
Thank you for joining us today on a fun-filled adventure on the ocean! Please don't forget about all the dolphins and sea creatures you've met on this adventure!
A group photo will be taken and will be sent to everyone via email so you can share this memory with friends and family back home.
"Eco friendly dolphin tour! Plenty of dolphins and friendly staff. 🙂 Would recommend 100%."
Price
Adults: $156
Kids (2-11): $124
Days
2 tours daily
7 days a week
*Tours may change/cancel due to unexpected weather or other circumstances.
10 passenger minimum.
Wetsuit Rental
$10 / person
"I definitely recommend the wet suit; it helped us feel warmer and made me feel like a pro!"
Photo / Video
Photo Package: $60
Video Package: $70
Combo Package: $100
"The paparazzi photographer is sneaking shots making this trip a super fun experience with photos you can take home or buy to remember it all."
Our Commitment to the Environment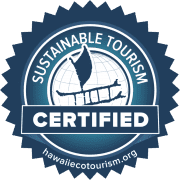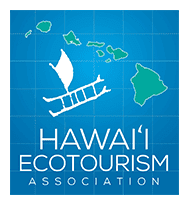 Dolphins & You is committed to protecting Hawaii's unique natural environment and host culture through the promotion of responsible travel and educational programs, relating to sustainable tourism for residents, businesses, and visitors.
Dolphins & You is committed to promoting environmental stewardship, cultural sensitivity, community well-being, and quality education within the travel and tourism community. Dolphins & You is certified by the HEA, Hawaii Ecotourism Association as a Certified Sustainable Tour.
For more information about the Hawaii Ecotourism Association, please visit hawaiiecotourism.org