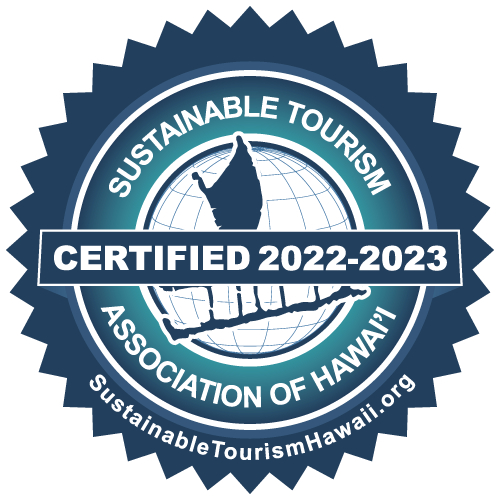 And You Creations has been awarded the prestigious "Sustainable Tour Operator Partner" certification by the Sustainable Tourism Association of Hawai'i (STAH). Our unwavering dedication lies in preserving Hawaii's pristine natural environment and rich host culture through the promotion of responsible tourism. Receiving this esteemed certification fills us with joy and honor, and we pledge to maintain our commitment to operating in a sustainable and responsible manner.
As part of our steadfast commitment to sustainable eco-tourism, And You Creations practices "Mālama" on each tour, every day. Whether it's our boat tours such as Dolphins and You, Turtles and You, and Ocean and You, or our land tours like Nature and You: Manoa, Nature and You: Waimea, and Island and You, we make it a point to collect at least one piece of trash from the ocean during every trip. Additionally, our guides carry a bag to collect trash at the sites we visit during land tours, aiming to leave these places better than we found them and reduce our environmental impact.
Our dedication to knowledge sharing drives us to conduct informative workshops and provide ongoing training and professional development opportunities for our staff. Recently, our crew members completed a specialized training session with Adam Kurtz of NOAA on Marine Wildlife Safety in May. This equips our team to educate Hawaii's visitors about "Mālama," sustainability, and eco-tourism.
We are also excited to announce our partnership with the Surfrider Foundation and Oahu Beach Cleanups, where we will sponsor and actively participate in a Beach Cleanup @ Pokai Bay on September 9th. Our staff members are enthusiastic volunteers, eager to enhance the beauty of Pokai Bay through this wonderful opportunity.

At And You Creations, our mission revolves around promoting environmental stewardship, cultural sensitivity, community well-being, and providing quality education through our tour experiences. We are deeply committed to raising awareness about sustainable policies and practices among our customers, partners, and industry stakeholders to ensure responsible tourism. Together, we can safeguard and perpetuate Hawaii's invaluable cultural and natural resources for future generations through education and responsible stewardship. Mālama ka'āina, I Hawai'i nō nā Hawai'i i ka 'āina.
For more detailed information on our "Mālama" practices, please visit our website: https://andyoucreations.com/malama-kaaina/
And You Creations remains dedicated to exploring new ways in which we can contribute to sustainable tourism and uphold positive practices. If you have any questions or are interested in collaborating on "Mālama" or sustainable tour content, please feel free to contact us at [email protected]. We look forward to making a positive impact together.