Swimming with dolphins in the wild is an incredible experience. It's one that comes with a great deal of kuleana (responsibility). And You Creations takes its commitment to sustainability and caring for the environment very seriously.
The Hawaii Ecotourism Association (HEA) hosted the 2018 Annual Award Luncheon on November 13 at the Hilton Waikiki Beach Hotel. The ceremony applauded all almost 100 certified tour operators across the Hawaiian islands for their efforts to make Hawaii more sustainable.
And You Creations was proud to be among the tours represented at the event. We left inspired to do even more!
Awards Luncheon
The luncheon began with table-top discussions between various tour operators and guides. The discussion topics ranged from reducing adverse impacts on marine life to involving more Hawaiian cultural practices in tours.
Following a traditional blessing, former Honolulu Mayor Mufi Hannemann took the mic as the event's Keynote speaker. He shared success stories, such as Kauai's recent islandwide initiative to commit to sustainable tourism. Then the celebration began as lunch was served and the awards were announced!
Learn the steps Dolphins and You takes to maintain its HEA Certification
And You Creations Tour Guide of the Year
The HEA handed out four awards to exceptional tour operators, including Sustainable Operator of the Year, Community Influencer of the Year, Tour Guide of the Year and HEA Volunteer of the Year. And You Creations nominated Dolphins and You tour guide Kaiona Oana-Momoa for Tour Guide of the Year, because she goes above and beyond for every tour she guides.
Born and raised in Oahu, Hawaii, Kaiona exemplifies someone who values culture and community. She has been dancing hula since she was a child, and she speaks fluent Hawaiian. Kaiona truly embodies the Spirit of Aloha.
On top of that, Kaiona is committed to keeping Hawaii's land and ocean pristine for all generations to come. Together with the rest of the Dolphins and You crew, she works to remove any opala (trash) from Hawaii's waters, reminds guests to use reef-safe sunscreen whenever possible and helps share practices for respectful interactions with marine wildlife.
The HEA also complimented And You Creations for its efforts to reduce plastic waste on its other tours, Nature and You and Island and You. And You Creations General Manager Kaina Neuman worked with the businesses that serve food on these tours to provide bamboo and paper containers instead of styrofoam.
About the HEA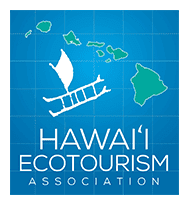 The Hawaii Ecotourism Association was founded in 1995 to promote sustainable travel in Hawaii. In 2001, it began its Certification Program, which allows operators to make their tours as eco-friendly, culturally educational and sustainable as possible.
The HEA mission is to protect Hawaii's unique natural environment and host culture through the promotion of responsible travel and educational programs relating to sustainable tourism for residents, business and visitors.