Ocean and You, the tour under And You Creations, is renowned for its Waikiki Sunset Party Booze Cruise. Setting itself apart from other party cruises, Ocean and You offers an unparalleled experience that's second to none.
(1) Elevating the Party Atmosphere with Live DJ
Each tour at Ocean and You, Live DJ come on board to turn up the energy with their pulsating beats and infectious tunes. Whether you have a song request in mind or you're just looking to groove to the rhythm, our live DJs, DJ NALU and DJ XL, will have you dancing the night away. Be sure to check our website calendar for DJ schedules, as they are updated regularly for your convenience:  https://andyoucreations.com/ocean/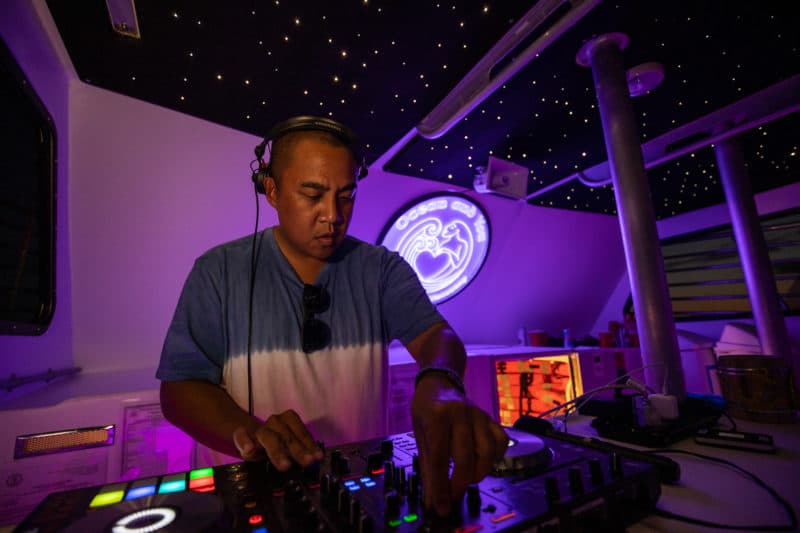 (2) Cheers to Variety with Bartender
What's a party without a drink in hand? Ocean and You takes your drinking experience to a whole new level by featuring a diverse selection of beverages served by the bartender. From tequila to beer, whiskey to Ocean and You special cocktails, our bartenders curate a drink menu that caters to every taste. 
*Please note that the availability of alcoholic beverages may vary based on tour circumstances. 
(3) Endless Ocean Dream Cup
Hold onto your excitement because we've just launched a new service that will take your experience greater heights: The Ocean Dream Cup! This cup with fancy lights, can be yours for just $40 during Ocean and You tours. But that's not all – purchasing the Ocean Dream Cup grants you unlimited cocktails services throughout the tour. Imagine sipping on your favorite drinks as you enjoy the breathtaking views of the Hawaiian coastline.
*Please be prepared to show valid identification for verification purposes to get Birthday Ocean Dream Cup.
As an added bonus, if you celebrate your birthday with us, you will receive an Ocean Dream Machine Cup (with endless refills) as a gift on your special day!
So why not make your birthday memorable with Ocean and You?
Are you ready to embark on a one-of-a-kind journey with Ocean and You in waikiki, Hawaii? Join us for an unforgettable Waikiki Sunset Party Cruise that promises live music, expertly crafted drinks, and an atmosphere brimming with excitement. Book your spot now at andyoucreations.com and make memories that will last a lifetime!