Premier

Waikiki Booze Cruise


Bring a friend on Monday's for BOGO 1/2 OFF!
*(+1) Complimentary Drink Ticket
*Our boats are NOT wheelchair accessible.
Mondays BOGO 1/2 Off ~ Friday Fireworks
Grab your family, friends, partner, or even come with just yourself because this Waiki booze cruise provides guests the opportunity to meet new people who like yourself, clearly enjoy a good time! Our professional live DJ will keep you entertained all night by controlling our state-of-the-art sound and lighting system onboard our luxury powerboat while our on-board bartender keeps you refreshed with their hand crafted cocktails. We even have a dance floor located at the rear of the boat for you to join our crew and other guests to show off your moves!
FLASH SALE:

40% OFF

(Tonight ONLY)

FLASH40
Mondays
BOGO
1/2
OFF
DJ NALU
$79
Fridays
Friday
Night
Fireworks
DJ XL
$99
Is it your Birthday?


Show your ID for our

Ocean Dream Cup

with endless posibilities.


Take in the glow of Diamond head at golden hour and the magic of the Honolulu city lights from an all-new luxury powerboat! Ocean and You is the ultimate Waikiki booze cruise.
Board the double-decker boat and explore its wraparound seating and Titanic-style front railing. Keep your eyes on the horizon for sightings of Hawaiian spinner dolphins, or humpback whales in winter.
After sunset, our live DJ will entertain you with contemporary beats as you dance to the onboard light show!  

Night Tours and Private Charters also available.
Private charters are recommended for groups of 10 or more.
Waikiki Party Boat Details
Price
Adults 21+: $79 (Friday's are $99)
Days of Operation & Start Times
Fall Sunset Tour (October - March):
Monday - Sunday
5:30 PM Departure
Manic Mondays: BOGO 1/2 OFF!
Bring a friend on for only $39.50
Friday Night Fireworks: $99
*Minimum of 10 bookings required for tour to take place
*Shoes not allowed on the boat in this tour.
Here is a complete rundown of what you can expect
on your Waikiki Sunset Party Cruise
*Tours may change/cancel due to unexpected weather or other circumstances.
Arrival at Kewalo Boat Harbor
Welcome aboard our state-of-the-art new boat!
Docked in the Kewalo Boat Harbor, our ship – Ariya II – has two decks, mood lighting, surround-sound, a Titanic-style bow and a bathroom onboard.
You will be asked to remove your shoes before boarding the boat. This is for your safety. We will have storage for you to place them in during your time onboard.

Crew Introductions and Safety Briefing
Filled with the Aloha Spirit, our "locally grown" crew members are all masters of the sea! Each is CPR, First-Aid and LifeSaver licensed. They will inform you how to stay safe on the boat.
We'll check your ID before boarding. For Military and Hawaii residence (or Kamaaina) you must show your military or Hawaii ID.
Start the evening with a cheers with new friends. Get to know your new Ohana for the night while leaving the boat harbor. It's time for a celebration at sea!
One free drink ticket per person is included in the tour price. 
Additional adult beverages are available to purchase for $6 or $12 each.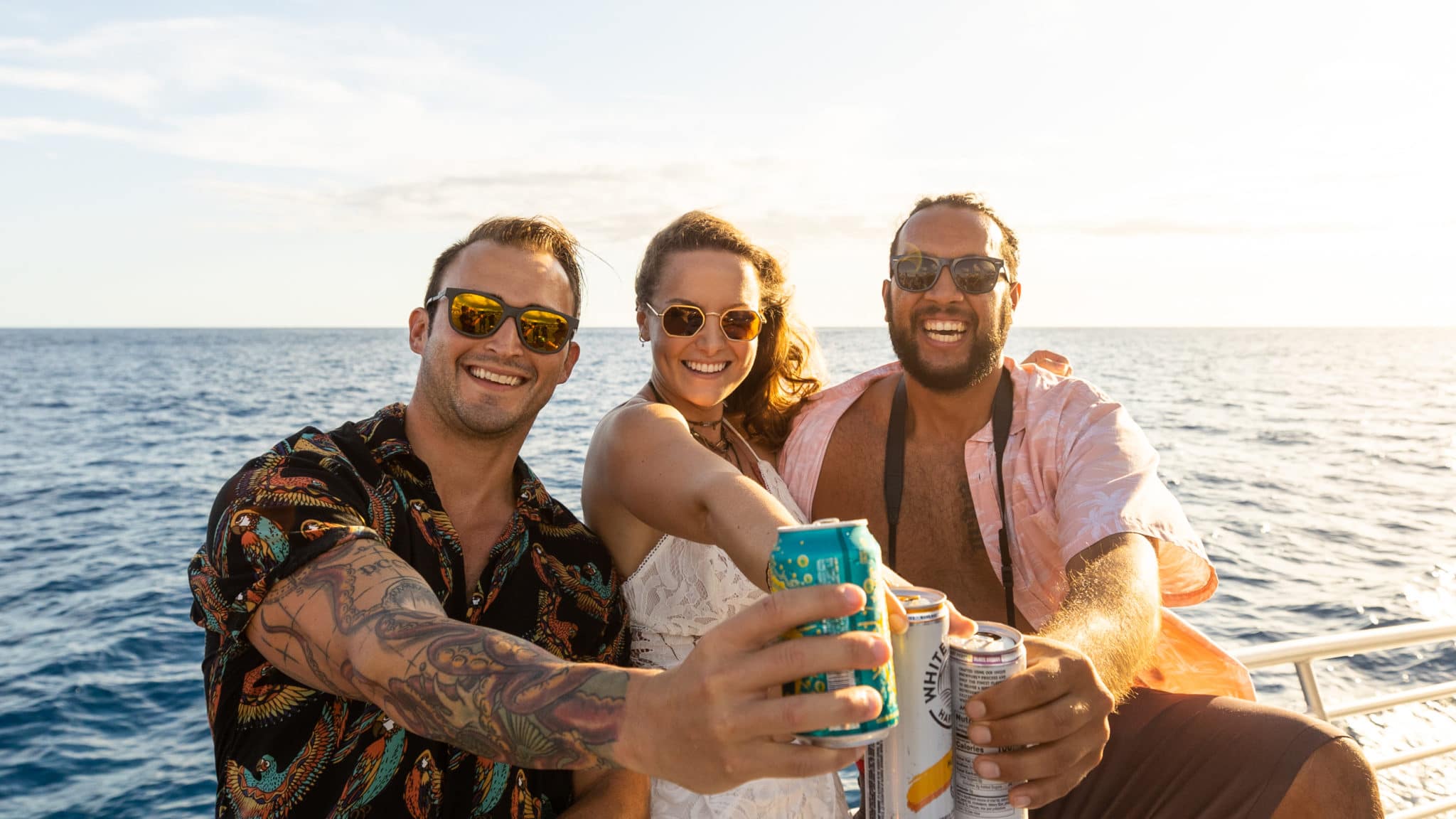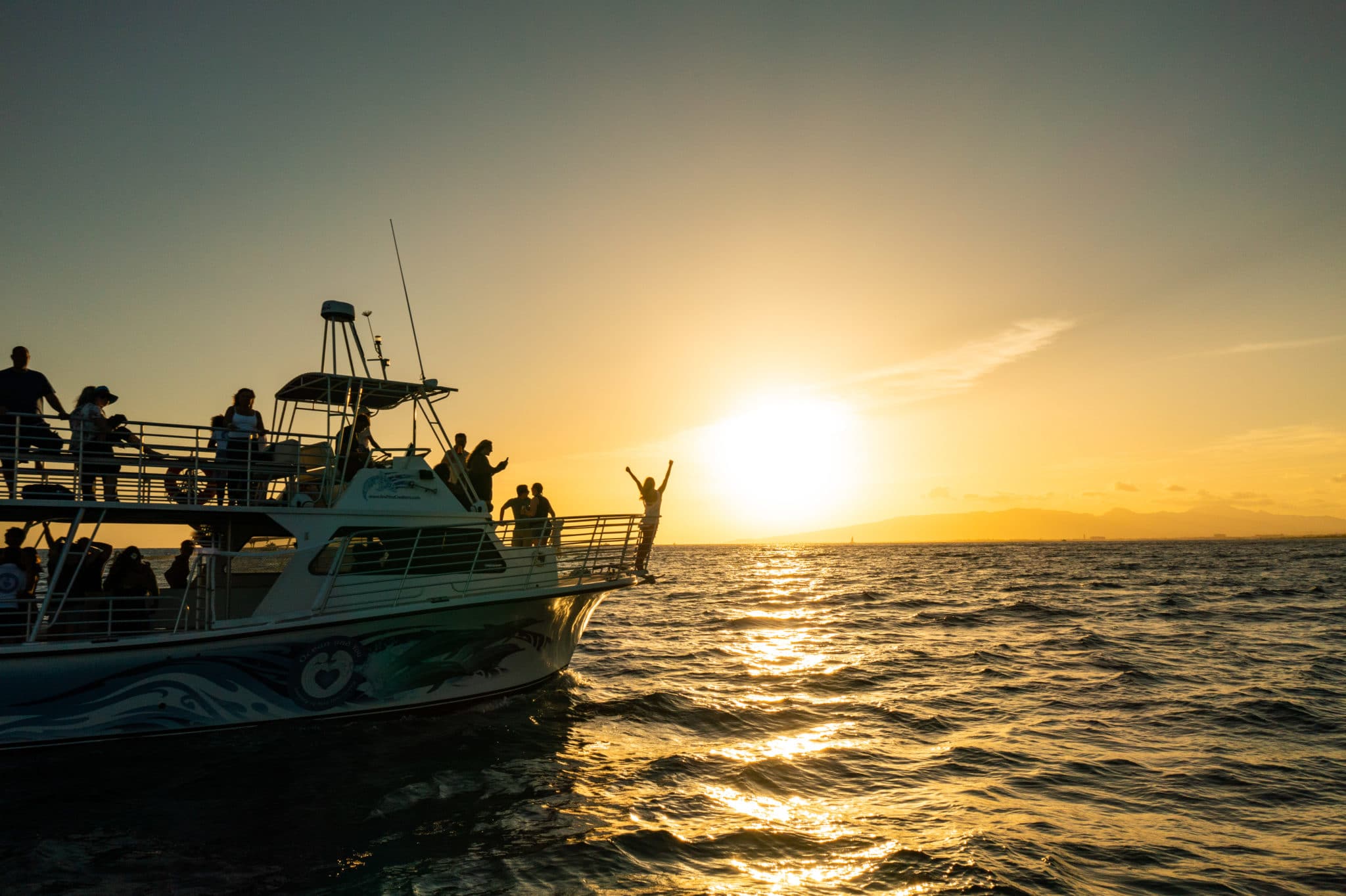 Bring out your cameras to capture unforgettable memories against the glowing backdrop of the infamous Diamond Head Monument illuminated at sunset.
The Ocean and You crew is the best entertainment you can get! This is when the live DJ really starts to turn it up to get you dancing.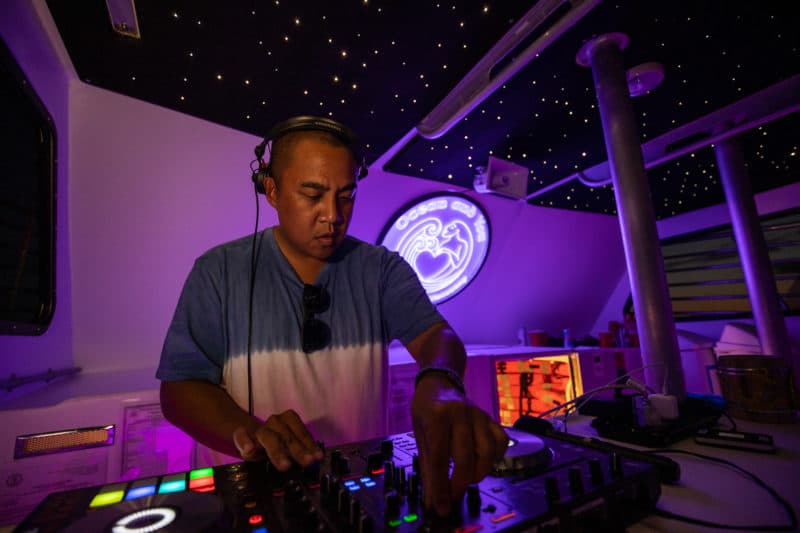 Watch as the boat transforms into a chic, floating party as the floorboards and ceiling light up with lavender twinkle lights.
(Friday Sunset Tours Only & are Regular Price)
Each Friday evening the Hilton Hawaiian Village puts on a free fireworks show on Waikiki Beach. Get the best view on the island, watching from the ocean!
After taking in the sunset, we will turn the boat back toward the harbor. But the fun isn't over yet!
Dance to the live DJ as he plays the last few bangers on the way to the harbor.
"A Hui Ho"!
Until We Meet Again!
We'll bring you back to the harbor, where you can safely walk or catch a ride back to your hotel. Join us again for another Waikiki booze cruise someday!

Best Waikiki booze cruise I've been on!
Tons of space to move around. Awesome crew. Lights come on at night with a Dj for a dance party after sunset. Super fun. I definitely recommend if you want to party on the water!

Amazing Time!
Truly the time of my life. Dancing and views!! This booze cruise gave my roomies and I one of our best nights out yet. We'll be back!

Highly Recommend to Book
First off, huge shout out to the all the crew members working on Captain Sarah's crew tonight. I've met so many wonderful and down to earth people. Great choices on hiring these beloved members! If you're looking for a great time with great crew members, choose your service with this company. You won't be disappointed.

Can't beat dancing on a cruise off the Hawaiian coast!
So much fun! There was such a great energy on the boat, the staff was kind and accommodating. The view from the boat was incredible. I loved dancing the night away with friends! I would love to go again and highly recommend.

This boat is LIT!!!!
Waikiki Sunset Cruise with Live DJ Hands down the best party on the water in Hawaii!!!!! I've been on lots of booze cruises, but nothing quite like this. The live DJ combined with the incredible sound system and crazy light system that's in the ceiling, illuminates the dance floor and even under the boat is NEXT LEVEL!!