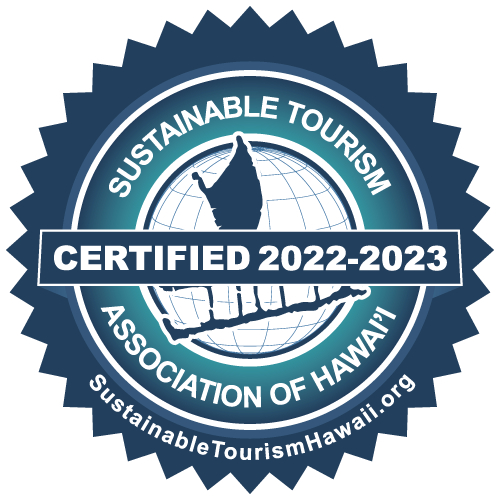 Adults: $125
Kids (2-11): $99
Infant (0-1):♥NA♥NA means for the safety of infants, they are Not allowed.
*Our boats and busses are Not wheelchair accessible.
Turtle Swim with Lunch Included!
On this adventure, aboard our state-of-the-art tour boat, you will experience the beauty of Hawaiian Green Sea Turtles as they glide through the pristine blue waters off the coast of Waikiki at the famed 'Turtle Cannon' along with various other tropical marine life. You will be able to enjoy a gourmet lunch while the crew performs a traditional Hula.This is an experience that you will remember forever!
Featuring a Turtle Snorkeling Excursion with
Hawaiian Reef Fish
Featuring a Snorkeling Session with Hawaiian Reef Fish
and Turtles
"This Boat is LIT!"

"Best Booze Cruise in Hawaii!"

"Epic Experience"

"Best Night of My Life!"
Experience the delight of peaceful sea turtles cruising in their natural environment, the beauty of the clear blue Hawaiian sea.
Board the double-decker boat and explore its wraparound seating and Titanic-style front railing. Keep your eyes on the horizon for sightings of Hawaiian spinner dolphins, or humpback whales in winter.

Great for all levels of swimming experience, our tour is led by a knowledgeable, water safety-certified crew.
Waikiki Turtle Snorkel Turtle Canyon on Oahu
Price
Adults: $125 | Kids (2-11): $99 | Infant (0-1): ♥NA
♥NA means for the safety of infants, they are Not Allowed
Days of Operation & Start Times
Mondays, Wednesdays, Thursdays, Fridays, Saturdays & Sundays

1st Tour: 10:00 AM Departure (check in: 9:30 AM)
2nd Tour: 1:00 PM Departure (check in: 12:30 PM)
What's Included in The Turtle Tour
• Water activities (Snorkeling with marine life)
• Complimentary Lunch
• Snorkel mask/fins/ life-vests (free rental)
• Hula dancing – entertainment

Canned alcoholic beer, wine, seltzers and non-alcoholic soft drinks for $6-$12/each.
Sales tax may apply to all optional purchases.
Things to Bring
• Swimsuit (please arrive ready to jump in the ocean)
• Beach Towel (oversized preferable)
• Reef safe Sunscreen, Sunglasses, Hat
• Long-sleeve Jacket or sweat Shirt (Winter Time)
Duration of Turtle Snorkeling Tour
2 Hour Cruise
*Minimum of 10 bookings required for tour to take place
*Shoes not allowed on the boat in this tour.
Oahu Turtle Snorkel Agenda
Here is a complete rundown of what you can expect on your reef snorkel adventure.
*Tours may change/cancel due to unexpected weather or other circumstances.
Arrival at Kewalo Basin Harbor
Pier D, Slip 111
Please check in before boarding the boat.
Docked in the Kewalo Boat Harbor, our ship – Ariya II – has two decks, surround-sound, a Titanic-style bow and a bathroom onboard.
You will be asked to remove your shoes before boarding the boat. This is for your safety. We will have storage for you to place them in during your time onboard.
Crew Introductions and Safety Briefing
Filled with the Aloha Spirit, our dynamic crew members are all masters of the sea! Our crew is CPR-certified and trained in water safety. They will inform you how to stay safe on the boat.
Adult beverages are available onboard. Please have your ID ready if you would like to purchase.
Following departure, we will begin our boat ride by reciting a Hawaiian chant called, "E'ho mai".  It is a prayer to the gods of the sea for a safe trip with plentiful marine life.
Snorkeling Session with Hawaiian Reef Fish and Turtles
Once we arrive to our destination, our crew will begin with a snorkel briefing on how to properly use the snorkel mask, fins and life-vests.
Then it's time to jump in the water and explore! Hawaii's clear waters and a sunny day will produce beautiful colors, bringing the reef to life. You'll see Hawaiian reef fish and turtles!
After snorkeling, guests will have an opportunity to explore different parts of the boat–from the wraparound bow to the 2nd-floor deck for optimal scenic viewing.

Our crew will share information on Hawaiian marine life, such as turtles, dolphins and whales. We may even see some dolphins and whales during our journey!
Each Friday evening the Hilton Hawaiian Village puts on a free fireworks show on Waikiki Beach. Get the best view on the island, watching from the ocean!
*Fireworks currently closed indefinitely due to COVID-19
After a fun-filled day in the ocean, enjoy a complimentary lunch.  Take in a live hula performance as you enjoy your lunch.

"Top notch. The crew goes out of their way to make everyone comfortable. I was pleasantly surprised at the high caliber of lunch provided. "
As a new member of our Turtles and You ohana (family), we celebrate your Oahu turtle snorkel with a special gift! 
Our original polynesian-style temporary turtle tattoo!  This isn't available anywhere else but with Turtles and You.  Just our way to say "thanks" and "mahalo"!

"Overall great experience with a great crew! Oh yeah, and cool tattoos as well!!"
After a fun-filled adventure, we head back to the harbor.

Sit back, relax, and enjoy the crew's Hula Show. At the end, please join us as we dance together to spread Aloha and give thanks.
"A Hui Ho"!
Until We Meet Again!
Thank you for joining us on a fun-filled adventure on the ocean! Please don't forget about all the sea creatures you've met on this adventure!
Our Commitment to the Environment
And You Creations is committed to minimizing impact on wildlife and fragile Hawaii ecosystems, along with actively promoting environmental awareness,
so that snorkel tours will be around for generations to come.