Hawai'i is home to some of the best snorkeling in the United States. Known for it's vibrant reef filled with exotic marine life, the waters of the Pacific that surround Hawai'i is a destination that should be on every ocean-lovers bucket list. Whether you have never snorkeled in your life, or your a certified diver, you will be mesmerized by what this amazing ecosystem has to offer. With warm water temperatures year-round, and a plethora of majestic marine life, it is the perfect place to explore below the surface.
How To Choose Your Snorkel Tour
Being a popular tourist destination, Hawai'i has no shortage of options when it comes to tours/activities. So many that it can often lead to a choice overload. Here is a list of things to base your decision off of:
Boat Condition and Size:

Inspect the condition of the snorkel boat. It should be well-maintained, clean, and in good working order.
Consider the size of the boat in relation to the number of passengers. A spacious boat allows for more comfort and ease of movement.

Safety Features:

Ensure the boat is equipped with essential safety features, such as life jackets, first aid kits, and emergency equipment.
Check for safety measures like handrails, non-slip surfaces, and clear safety guidelines provided by the crew.

Crew Qualifications:

Inquire about the qualifications and experience of the boat's crew. Look for a team that is trained in CPR, first aid, and water safety.
Ask if the crew members are knowledgeable about the local marine life and snorkeling sites.

Boat Amenities:

Consider the amenities on board, such as shaded areas, seating, and restrooms. These can significantly enhance the comfort of your snorkeling trip.
Some companies may offer additional perks like snacks, beverages, or underwater cameras.

Environmental Responsibility:

Choose a tour company committed to responsible and sustainable snorkeling practices. This includes proper waste disposal, adherence to marine conservation guidelines, and avoidance of damage to coral reefs.
Inquire about the company's efforts to minimize its environmental impact, such as using eco-friendly cleaning products.

Customer Reviews:

Read reviews from previous customers to gauge the company's reputation, especially concerning the quality of the boat and overall experience.
Look for feedback on the professionalism of the crew, the condition of the equipment, and adherence to safety standards.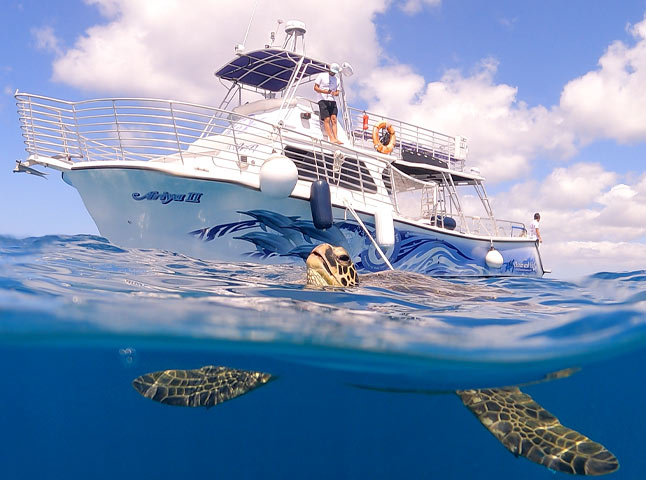 Our Snorkeling Tours
And You Creations offer two different snorkeling tours, Dolphins and You: Dolphin watch and reef snorkel, and Turtles and You: Turtle Canyon snorkel tour. Both of these tours provide guests with the opportunity to snorkel with tropical fish, sea turtles, and other majestic marine life! Learn more about these tours and find the best prices available on our ways to save page!