There's no better way to conclude the day than relaxing on the beach and watching the sunset. We've gathered our top places across the island, so soak in the last sun rays and enjoy!
West Oahu
The sun sets in the west so naturally the west side is blessed with some of the most amazing sunsets in Oahu. The west side's uncrowded and large beaches make it the perfect destination for a beach day followed by an evening BBQ and sunset. It's a longer trek to these beaches from Waikiki so plan to make a day out of it and enjoy swimming in the clear blue water.
Our favorite beaches? Makaha Beach is probably the most popular and also features an impressive surf break during the winter time. Perfect for watching surfers catch some sunset waves! Makua is another favorite and one of our prime locations for dolphin swimming on our Dolphins and You tour. Makua Beach is named after the valley behind it and offers impressive views of the Waianae Mountains and a nice open beach.
North Shore
Despite being on the northern part of Oahu, many of the famous North Shore beaches also face slightly west and offer equally amazing sunsets. You're guaranteed a front row view anywhere along the Seven Mile Miracle (the seven mile stretch of sandy beaches and popular surf spots along the North Shore) but one of our favorites is Sunset Beach. Another popular location is Shark's Cove which features an amazing snorkel area and about a dozen delicious food trucks right across the street. Go for a snorkel and then grab a bite to eat as you watch sundown!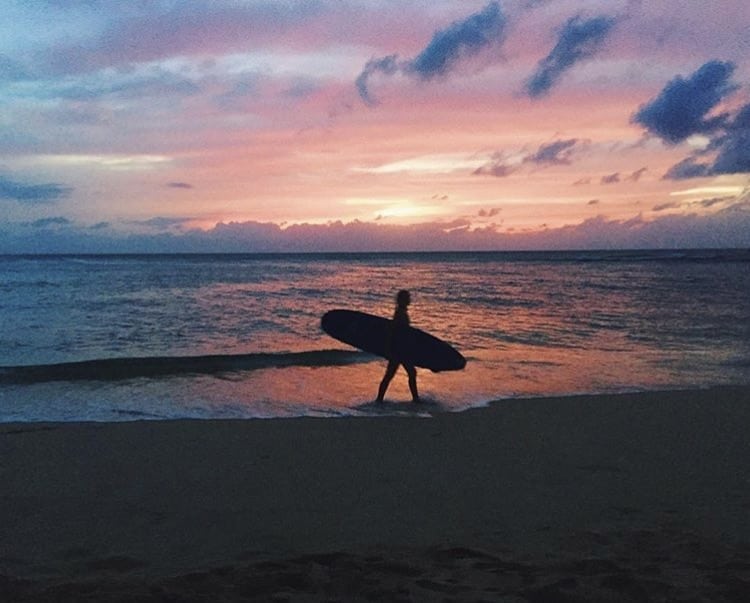 Waikiki
If you just got off your Dolphins and You tour head to Waikiki Beach for an unforgettable sunset. There are many beachfront restaurants that offer outside seating. Grab some delicious dinner and drinks while you celebrate the end of the day! On Friday nights you can watch the weekly yacht race and view a slew of boats and yachts racing across the ocean. After the sun sets you can catch the Friday night firework display. Another excellent spot is Kapiolani Park which features a nice grassy area, picnic tables, and great views. What better way to end the day?