If you've been following our And You Creations Instagram Account then you probably noticed that we recently had a huge AYC brand launch event at the amazing Hard Rock Cafe in Waikiki.
But what exactly was this event about? And what does it have to do with swimming with dolphins in the ocean, or hiking the Manoa Falls trail? Most importantly, what does it mean if you want to better understand the local culture and history of Hawaii?
Before we dive into the details of the event, let's go back in time and look at how this whole thing started.
A Brief History of Dolphins and You
Back in the 70's and 80's a woman named Terry Pinney took people out from Mākua Beach to snorkel and swim near the local spinner dolphins. It was a "spiritual" exploration, meant to help people connect with their hearts and discovery their true selves.
When Richard Holland went on this excursion 29 years ago it changed his life. It just so happened that Terry was planning to close the business and move to the mainland.  She offered to sell it to Rich and the rest was history.
After finding an investment partner, he started building Dolphins and You into a sustainable business. He focused on not only honoring the amazing marine life, but also integrated native Hawaiian culture into the dolphin swim experience.  He focused on a respect for the land and sea through sustainable and eco-friendly practices.
The Growth of Dolphins and You
Since then Dolphins and You has grown to a twice-daily tour on a beautiful 40 passenger boat. Tens of thousands of visitors join the tour each year and experience the culture of respect for the animals and environment with an integration of Hawaiian culture. It is one of the premiere tours on Oahu, winning the coveted 111 Hawaii award for "Best Optional Tour" in 2017.
The Birth of And You Creations
But there was more that Rich wanted to provide for visitors to this tropical paradise. A few years ago he started offering other tours to visitors. First was a Manoa Falls hiking tour which he named "Nature and You." He followed it with a circle island tour of Oahu called "Island and You."
But it wasn't until consulting with Mr. Naoshi Uchida from Hundred Dreams, a master of online marketing for the Japanese market, when the idea for a comprehensive brand to build out a full suite of tours was born. Mr. Uchida came up with the idea for "And You Creations", and from it a series of 7 sub-brands came about.  Each was focused on a different aspect of what this island, and this company, has to offer.
You can click on the links in the navigation area above for details, but here is a quick rundown of each:
All of the tour agencies on Oahu already know and love our Dolphins and You tour, but in order to make sure they understood the scope of this new enterprise, we held a huge brand launch event. This was our opportunity to introduce the AYC brand to everyone, and show them what amazing experiences we have in store for their guests.
And it was truly an amazing event!
Highlights from the AYC Brand Launch Event
The AYC team started working on this event several months before the first person walked through the doors of the Hard Rock Cafe. We're thrilled with how it turned out and wanted to share some highlights from the event.
We'll also be providing some video and photos so you can really get a feel for what happened. And we'll even have some commentary from the founder himself, Richard Holland, to give a bit of context for everything you're going to see.
Preparations
Of course, it isn't a party without door prizes, so we made sure to load up our new AYC branded eco-bags with plenty of great items from our Treasures and You shop.
From cookies to coffee we spent a lot of the time right before the event packing up the bags for our guests.  We also prepared several gifts used in our raffle at the end of the evening.  But, we'll talk more about that in a moment. 🙂
A Hawaiian Welcome for Our Guests
Our guests were welcomed to the event with the traditional flower lei and greeting from our amazing crew members, Kaiona, Tyler and Rache. We had some time before the event to meet our guests and our team was hard at work making sure everyone felt welcome.
Here are some photos of our amazing entertainers and crew welcoming guests with open arms and open leis.
Our amazing emcee, Sam
Many of our guests were familiar with Sam Monahan, our emcee for the evening who has a regular travel-related show in Japan. Sam is special, not because of his awesome emcee skills, fluency in Japanese, or the fact that he runs an amazing restaurant in Waikiki, Sam's Kitchen. But what many don't realize about Sam is that he is actually the first guide Rich ever hired for Dolphins and You!
Here is a flashback video from a TV show that Sam hosted called "Aloha Tengoku" where he first met Rich and shared the tour with the Japanese market. Definitely a "blast from the past"!
It was wonderful to have Sam there to provide a look at how the company has changed since the early days.
A welcome, a chant, and a toast
At the beginning of the event, Rich came up to say a few words and welcome everyone to the event. But to kick things off right he also had Tyler come up to provide a Hawaiian chant to help bless the event, and Kaina our General Manager, also helped out with a resounding blow on the conch shell.
Rich also raised a glass to welcome the guests and thank them for coming.
Introducing AYC and the Tours
Next Sam introduced Mr. Uchida, to the stage. The two of them presented the background, growth and development of Dolphins and You. They also introduced the new And You Creations brand and the 7 sub-brands that agents and guests would soon get to know quite well.
They even made an amazing (secret) announcement about a new boat that is on the horizon. We won't spoil that right now, but it is pretty big! Keep your eyes peeled on our blog and social media in the coming months for more updates.
Finally, they shared information about Rich's book project in Japan. We'll also give more details on that as it progresses.
All told there are some amazing things on the horizon for AYC and our guests!
Hard Rock's Delicious Food
One of the best parts of the evening was probably the amazing food that the Hard Rock Cafe provided. They really went out of their way to make some deliciously awesome food. Pictures and videos don't really do it justice, but just know that not a single person went home hungry. 🙂
Hula Performances
If you've been on our Dolphins and You tour, then you know what an important part our crew plays in entertaining and showcasing their talents to our guests. It was a special treat that Tyler, Kaiona and Rache were on hand to perform a series of amazing hula dances.
They were so amazing that many of the guests came up afterwards to ask to take pictures with them. You might think we're somewhat biased (which we probably are), but we honestly think they are some of the best hula dancers around. We were honored that they could showcase their skills, and honor the traditional Hawaiian arts at our event.
A VR dolphin swim experience
One of the most popular parts of the event was the VR goggles that we shared. After putting them on it immersed you on the actual Dolphins and You tour so you could explore and see exactly what a guest sees on the tour. It even took you under the water to swim with the dolphins. Amazing!
Prize Giveaway and Raffle
To celebrate and thank our guests for attending our event, we also held a prize drawing. Ms. Masako Nashimoto-Luttrell, the president of our amazing PR team, Nashimoto and Associates, assisted Sam with a drawing of business cards to see who the lucky winners were.
We gave out a wide variety of our great Treasures and You merchandise, but the highlight of the raffle was the set of day passes for our Island and You, Nature and You and Dolphins and You tours.
Plus, for the first time ever, we gave away an Annual Pass to one of the attendees. This pass has never been offered before and allowed the winner to come join the Dolphins and You tour over and over again for the whole next year! This is a dream item for someone who loves swimming with the Dolphins!
Thank You and a Song
To round off the evening, Rich brought two of his children on stage and expressed his sincere gratitude for the support that everyone has given to Dolphins and You.  He shared his hope that AYC will continue to provide amazing experiences for guests to Hawaii for years to come.
At the end Rache led the group of guests, who formed a large circle, in a round of Hawaii Aloha. A perfect ending to an amazing event!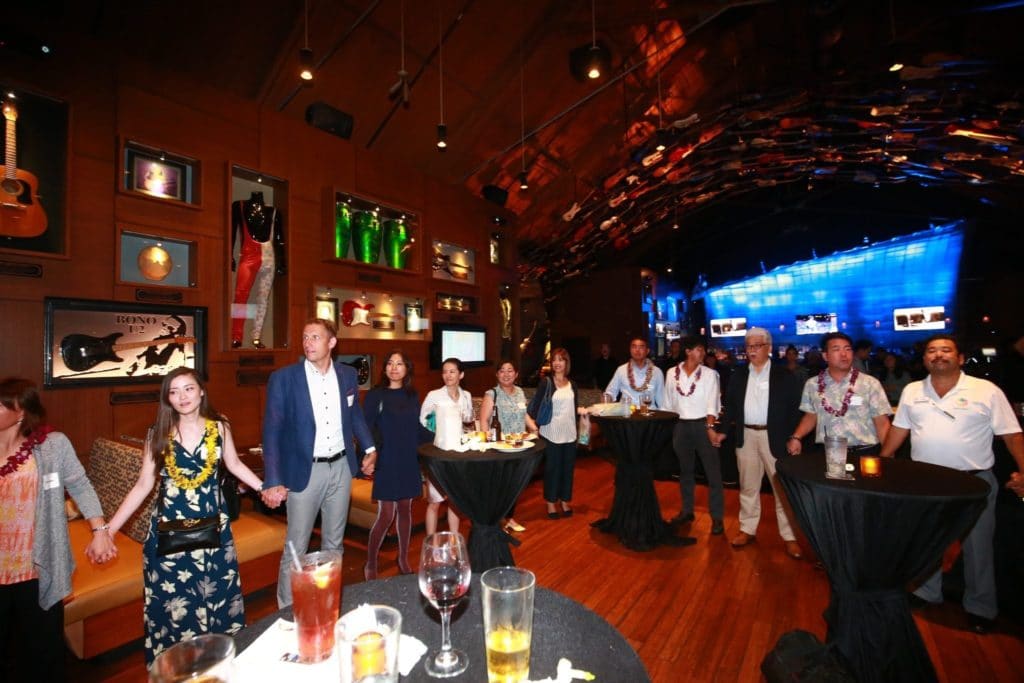 What are you waiting for?
We're really happy about the new tours we've launched, and truly excited for all of the new things on the horizon for And You Creations. We can't wait to share the beauty of Hawaii with all of you!
But there is no need to wait around if you're heading to Hawaii. Why not book one of our awesome tours now? Just click one of the links below to get in on the Dolphins and You, Nature and You or Island and You tours. Or be sure to check out our Treasures and You online store for some amazing goods that will help you bring the spirit of Aloha to wherever you might be.
And keep your eyes on our social media feeds and this website for updates to our other tours, coming very soon!
Mahalo and thanks to all the attendees of our launch event, and thank you to everyone for your continued support of And You Creations. We wouldn't be here without you, and we're grateful everyday for the opportunity to provide you with amazing experiences in Hawaii.